CBD for Pets In St Augustine
Do you think that YOU are stressed being in almost-full lockdown? Trust us, your pets feel it too! Our pets pick up on our moods and our anxiety. CBD for Ellevet is designed to help your pet not only with anxiety, but also for pain. Ellevet CBD meds are now available and in-stock at St. Augustine Animal Clinic!
Hemp CBD vs. Traditional Pain Meds: Weighing the Options for Your Dog
Cannabinoids can positively affect pain sensation, mood, anxiety, appetite, inflammation, and the immune system. It is important to note that not all cannabinoids are the same.
When your dog is in pain, you will do anything to help him feel better, and you want to find a solution fast. In the past, the only option was to get prescription drugs from your veterinarian. However, NSAIDs, opiates, and other drugs are not the only options for managing pain in your dog. There are safer and more effective alternatives available that do not carry the risk of side effects that prescription drugs have. One of these options is hemp CBD.
What is Hemp CBD and How Does It Work?
Hemp is a naturally occurring plant that contains compounds called cannabinoids. These cannabinoids interact with your dog's endocannabinoid system. The job of the endocannabinoid system is to maintain homeostasis in the body and therefore is effective for addressing multiple problems. Cannabinoid receptors are located throughout the body and brain so it makes sense that they help regulate the entire body. Cannabinoids can positively affect pain sensation, mood, anxiety, appetite, inflammation, and the immune system. It is important to note that not all cannabinoids are the same, and not all work on the same disease areas. You can learn more about Cannabinoid safety in our Pet Owner's Guide to Cannabinoids.
Side Effects of NSAIDs for Dogs
Nonsteroidal anti-inflammatory drugs (commonly known as NSAIDS) are often prescribed by veterinarians to help alleviate pain and inflammation in dogs. Other drugs that may be used are in the opioid class. Common drugs your veterinarian may prescribe include:
• Rimadyl
• Meloxicam
• Gabapentin
• Galliprant
• Tramadol
These traditional pain medications can work but they also come with a price. The most common side effects of NSAIDs for dogs are vomiting, loss of appetite, depression, and diarrhea. Severe side effects include stomach or intestinal ulcers, liver failure, kidney failure, and even death. Prescription painkillers for dogs come with an "Information for Dog Owner Sheet" that describes the possible side effects. It is important to read this information carefully and discuss with your veterinarian. Some topics to cover with your vet include:
• Likelihood of side effects
• Proper dosing
• How to give it to your dog
• When to give it and for how long
• And what to avoid when your dog is on the prescribed medication
• Giving Your Dog Hemp CBD as an Alternative to NSAIDs and Other Drugs
Many pet owners choose a high-quality hemp CBD product because their dog is on an NSAID, or some combination of drugs and is still stiff and sore, depressed, self-isolating, or experiencing other side-effects. Hemp CBD works when many other drugs do not, and also can be taken with other drugs with no adverse interactions. Hemp has no known side effects. Many pet owners are able, with the help of their veterinarian, to decrease or stop the use of other drugs after using an effective hemp product. It is important to choose a hemp product that has been well tested in a clinical trial and endorsed by veterinarians.
When ElleVet conducted a clinical study with Cornell Vet School our proprietary blend of hemp oil, over 80% of the dogs showed significant improvement. A good percentage of these are able to get off or reduce their traditional painkiller medications. ElleVet Hemp products are safe to take with other medications. No adverse reactions have been reported, and our products have been tested at 10x the normal dose. No side effects (even sedation) were noted at this level.
Hemp CBD Chews for Dogs Backed by Science
ElleVet Sciences works with some of the best veterinarians in the world to ensure the safety and efficacy of our hemp CBD chews and oils. This is because when your dog is suffering, we feel you shouldn't have to choose between safety and pain relief. And remember, when weighing the options of hemp vs. a traditional painkiller for your dog, it is important to include your veterinarian in the discussion. To learn more about how our hemp CBD products can help your dog you can contact us at 904-824-5454.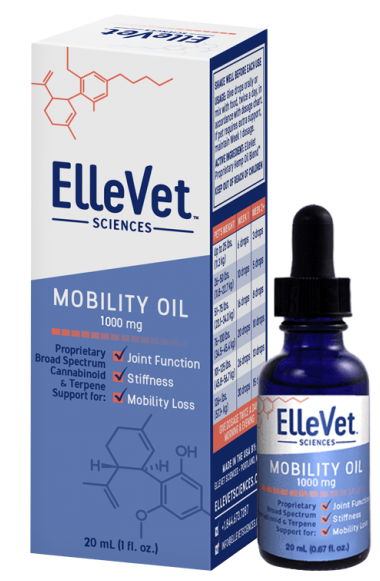 Ellevet Hemp CBD+CBDA Oil For Dogs 20 ml
Our 20 ml Hemp CBD+CBDA Oil is the perfect size for small dogs, 50 lbs and under. ElleVet Mobility Oil is a great choice for dogs who are finicky eaters or who have allergies or sensitivities. Endorsed by veterinarians nationwide as the best CBD for dogs, ElleVet is the only CBD+CBDA product that has been proven to work and is backed by science.
INGREDIENTS: ElleVet™ Proprietary Complete-Spectrum Cannabinoids Blend, Sesame Seed Oil.